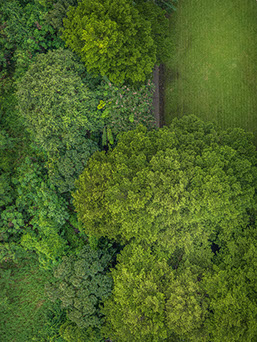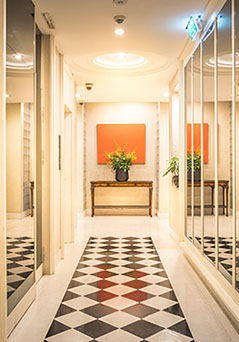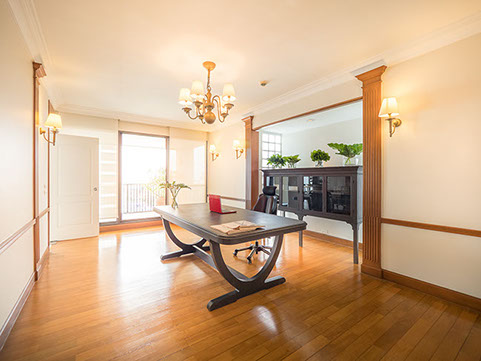 What Garden Towers offer is an abundance of living space with apartments having 356 Sq/m and 3 – 4 bedrooms, plentiful outdoor private green areas designated only for our tenants with peaceful harmonious living conditions. Each apartment features a large living room with floor to ceiling sliding doors leading to a generous balcony overlooking the swimming pool. We have a large designated private space perfect for a working office, dining room or a children's study area. There is a large fully equipped western kitchen and a separate maid's quarters with a laundry area and elevator. We are an exclusive, low density, luxury property with only 50 units in total and only 2 apartments per floor.
Properties that can offer a large living space with a designated working office as well as large open green areas are becoming very sought after and with many of us also looking to be able to relieve stress by exercising regularly it requires a building to also have top class facilities.
Located in Bangna Trad KM 6.5 with easy access to many international schools including Bangkok Patana, Berkley and Concordian as well as a short distance to Mega Bangna. We are walking distance to a first-class international hospital and only a 20-minute drive to Suvarnabhumi airport and many top-class golf international standard golf courses. You can also easily get onto the expressway to travel to all parts of Thailand.
Prior to our forced lock down many of us had to make compromises on where we lived, the biggest decision being whether to sacrifice space for location. What 2020 has taught us is that priorities are ever changing and new normal must be considered when making decisions.
During the lockdown being cooped up in a small apartments almost 24 hours day with parents working from home, children being home schooled, and the distinct lack of a "quiet space", even some outdoor space to retreat too, started to affect many of us psychologically and mentally . With the idea that moving forward things may not return to normal, and more companies requiring there employees to ever increasingly work from home, many of us are desperate to avoid repeating the lockdown experience, albeit in a different form, and the reverberations around the real estate market are already being seen.
WHEN IT COMES TO YOUR HOME,
It's about more living space, top class facilities and open green areas.
Details of our Luxury homes for rent below:
320 Sq/m and 356 Sq/m
3 Bed and 4 Bed units available
Beautiful living room with large terrace
Full western Kitchen with breakfast table
Designated office / study area
Full Maid quarters including laundry and washing area
3 Bed prices from 85,000 Baht month
4 Bed prices from 95,000 Baht month